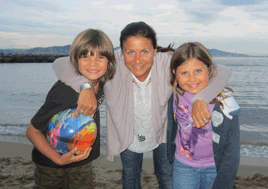 Amanda, pictured with her son Frankie.
Five littl'uns modelling Panda & The Sparrow clothing
New Stokey clothing brand a soft touch
When Stokey mum Amanda Burrows' son Frankie was diagnosed with eczema she struggled to find clothing that was gentle enough on his skin.
Now the entrepreneurial mother, a former director of Whistles and House of Fraser, has joined forces with her friend and former colleague Judith to launch Panda and the Sparrow – a new brand of children's clothing made of bamboo.
She said: "When my son Frankie was a baby it was really hard to find stylish, fun baby clothes which were made of bamboo. Bamboo is an incredible material; as well as being the fastest growing and most sustainable plant in the world; it's as soft as cashmere, thermo regulating, UV resistant, antibacterial, anti-static, breathable and absorbent.
"Not only is does our range look great on any child it's also a perfect itch-free option for children with conditions like eczema, chickenpox, allergies or dermatitis.
"We've designed a range of fun clothing that's incredibly soft and, as mothers, we've tried to think of everything. When Frankie started walking I had to cut the feet off his sleepsuits to stop him slipping – ours have fold-back feet and hands. We have lovely little body-tees with a trim which sit perfectly over trousers or leggings, the softest hats and blankets."
Amanda and Judith have been working alongside Bam – a company making adults clothes made of bamboo. They're doing the designing themselves and the clothes are manufactured at an Organic Textile Standard factory in Turkey.
Amanda added: "Judith and I have worked together for years both at Whistles and House of Fraser and have always said we'd like to launch our own business. As parents we're able to fit the business around our children – it's a little stressful at times but great fun."
The name Panda & The Sparrow was born out of Amanda's nickname (Panda) and Judith's married name (Sparrow) and is a neat analogy for a bamboo product.
Watch this space for chances to win Panda & The Sparrow goodies with StokeyParents soon.
Visit www.pandaandthesparrow.co.uk
.
Did you know:
· Bamboo grows up to a metre a day with no pesticides, fertilizers and hardly any water
· The yield you get from an acre of bamboo is ten times greater than that of cotton
Judith pictured here with her children Ellie and Sam